Technology Solutions Company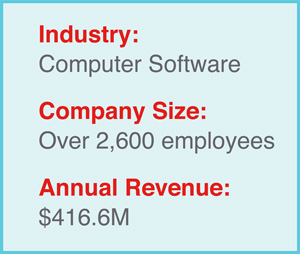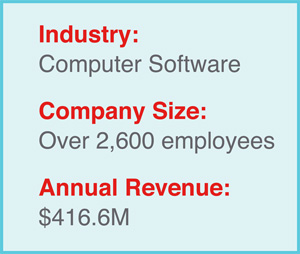 The Challenge
With offices nationwide split into five divisions and an annual travel spend of $11M, this financial management and software solutions company was growing exponentially. They needed a centralized travel management solution. Each division had its own travel policy and used different tools, making reporting and visibility into travel spend challenging. They wanted a travel management company to consolidate travel and to reach a 75% online travel booking adoption rate within the first 90 days after implementation.
The goal was consolidating five travel policies into one centralized solution with a 75% online adoption rate within 90 days.
To do this it was necessary to first:
Determine critical success factors
Establish savings goals
Create a viable service model
Direct Travel realized that in order to create a successful consolidated travel management program, communication and customization would be the core elements.
The Solution
Implementing a seamless, hybrid solution of full-service, online and mobile travel management solutions.
While every Travel Management Company offers online tools, Direct Travel provides an online solution with a point of difference: implementation. In order to meet the 75% adoption rate goal, it was important to provide unparalleled travel technology, including online and mobile booking capabilities, tailored to the needs of all staff members and adhering to the company's own travel guidelines.
DT focused heavily on:
Change management
Proactive education
Customized booking and reporting for strategic insight into opportunities for improvement
A single travel policy with automated compliance was incorporated into an online booking system. A full-service travel policy was hard-coded into Direct Travel's back office systems. In order to:
Fulfill individual needs of travelers
Communicate policy changes effectively across five divisions
Consolidate travel data to leverage vendor rates
Drive online travel adoption
Direct Travel implemented a customized consolidated reporting and analysis system to help to identify cost saving opportunities and monitor traveler behavior, leading to enhanced travel spend insight and lower overall travel cost.
The Result
Online adoption reached 90% in 90 days company wide
After six months, it was clear that reducing ticket exchanges by 50% this dynamic company would save 1.5% on overall annual air spend. By accepting the lowest logical fare on 29% of air ticket purchases, they could save up to 8%. The initial goal of 75% online adoption was met and exceeded, and additional savings opportunities were identified and realized.