Vision Travel Introducing Direct2U Corporate Travel App in Canada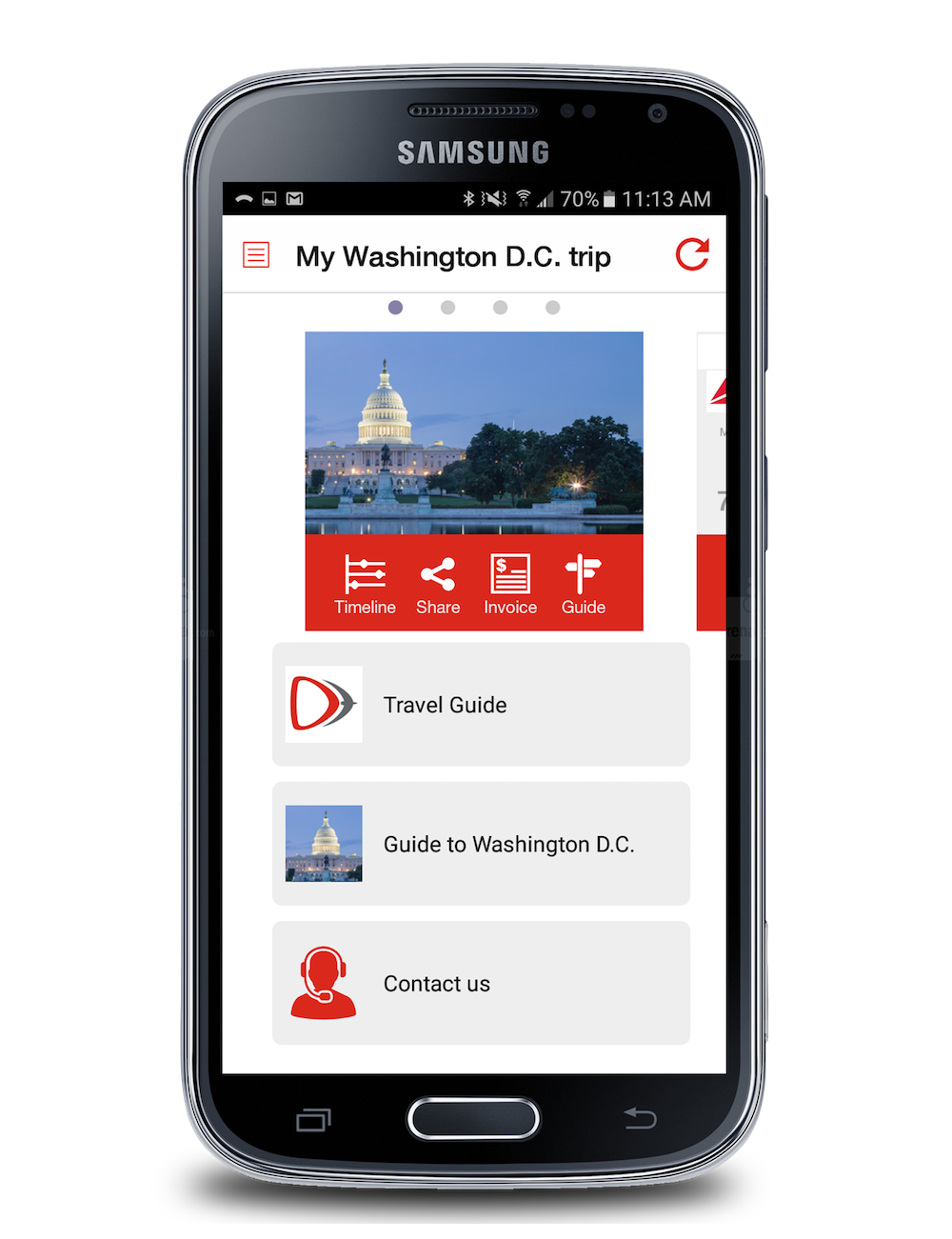 Toronto, May 24, 2017 – Vision Travel, a leader in travel management in Canada, will be introducing Direct2U, a corporate travel app and duty of care solution, to the Canadian market at GBTA Conference 2017 Toronto, May 23 – 25.
Direct2U, powered by Mantic Point, is a powerful mobile app designed to deliver both proactive protection and robust travel resources for business travellers. With customizable traveller tracking and disruption management capabilities, companies utilizing Direct2U can monitor the locations of their business travellers and identify any potential travel and safety risks in real-time.
"Duty of care is an incredibly important consideration for any company and Direct2U not only addresses the needs of the business, but also those of the traveller," says Brian Robertson, President of Vision Travel, Ontario-West.
For the traveller, the app provides a constant connection to Vision Travel, ensuring they have 24/7 support and access to assistance at the push of a button. With its extensive feature set, Direct2U also allows business travellers to consolidate to the use of just one mobile app for all of their travel needs. Travellers benefit from automatic notifications on real-time flight status updates as well as airport guides, mobile check-in, destination guides with interactive maps, weather forecasts, a currency converter and much more.
 "Our goal is to make business travellers always feel that they are connected to Vision Travel, no matter where or when they are travelling," adds Joel Ostrov, President of Vision Travel, Quebec-East.
###
About Vision Travel
Vision Travel is an established leader in travel management in Canada, employing 725 travel professionals. The company has been providing a full range of corporate, meetings & incentives, leisure and loyalty travel services from coast to coast to a wide spectrum of Canadian companies since 1953. In 2016, Vision Travel was ranked 24th in North America on the Travel Weekly Power List and is a leading member of Virtuoso, the world's most prestigious travel network. In April 2017, Vision Travel merged with Direct Travel as the first step toward a shared strategy to build a global company.
Strategic Meetings & Incentives is Vision Travel's world-class meetings and incentives division. Whether you need to motivate, reward, inform or train your team, SM+i will meet your goals and objectives and with outstanding creativity and down-to-the-smallest-detail operational efficiency – anywhere in the world. For more information, please visit www.strategicmi.ca.
Vision Travel is committed to a more personalized and responsive approach to the business of travel and this is achieved through customer service, exceptional value and trust. Our success is a testament to our valued team members. For more information about Vision Travel, please visit www.visiontravel.ca.
Member: GBTA • ACTE • Air Canada Circle of Excellence • Oceania Connoisseur Club • Orient Express Bellini Club • Princess iexcel • RADIUS • Rosewood Elite • Ritz Carlton Stars • Virtuoso and Virtuoso Adventure & Specialty Travel • Virgin Galactic Accredited Space Agent • Collette President's Council • Disney Earmarked
Advisory Boards: Abercrombie & Kent • Best Western • Carlson Rezidor • Crystal Cruise Line • Cunard Inner Circle • Fairmont Hotels • Preferred Hotels • Regent Seven Seas Cruise Council • Tauck • GBTA Canada Advisory Board • Radius Board of Directors • BVI Travel Agent Advisory Board
Awards: IHG Partner of the Year • TRAVELHotNews: Travel Network of the Year • Viking River Cruise Award of Excellence • Royal Caribbean Cruise Lines Loyal to Royal • Celebrity Cruises Shining Star • Globus Family of Brands Top Producer
Preferred Partner: Four Seasons Hotels • Holland America • IHG Hotels