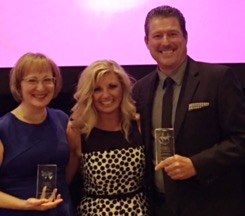 TORONTO – July 18, 2016 – Global Business Travel Association (GBTA) recently awarded a Business Travel Professional Service Award to Ian Race, Senior Vice President, Sales & Account Management at Vision Travel, and Shelly Lewchuk, Manager of Corporate Travel at Canadian Natural Resources Ltd. Canadian Natural Resources Ltd. has worked extensively with Vision Travel as a client of the company. Ian and Shelly are the first Canadians to receive the award; Ian as a GBTA Canada Allied Member recipient, Shelly as a GBTA Canada Direct Member recipient.
Both were recognized, along with other global volunteer award recipients, during the exclusive Global Leaders Reception at the GBTA Convention in Denver, Colorado on Saturday, July 16.
"Ian and Shelly have proven themselves dedicated and invaluable supporters for GBTA's Canadian activities.  Ian has truly embodied the entrepreneurial spirit that comes with being a leader in a Canadian, privately owned business.  He understands what it takes to leverage volunteer roles, to gain exposure for his company, and makes the most out of any and every event involvement within our industry. As a founding sponsor, and member with GBTA Canada over the past 12 years, Ian has worked tirelessly to help bring success to our association.  In his role on GBTA Canada's Advisory Board since its 2014 inception, Ian has provided countless hours to contribute ideas, deliver sessions, drive opportunities and outreach for industry connections, all to help bring GBTA Canada to where it is today," says Nancy Tudorache, Regional Director of Operations for GBTA Canada.
"As a Canadian travel buyer, Shelly understands that it is important to get involved, and be surrounded by people who she can both learn from and impact change with. Shelly has been highly involved with GBTA's global and Canadian activity since 2009 and has taken on many different roles – from being a board director to becoming the President of the board from 2014 – 2016. Shelly truly embodies the spirit of championing a buyer-led and focused industry association."
"We are delighted to have been able to recognize Ian and Shelly at this year's GBTA Convention and look forward to continuing our work together," added Tudorache.
GBTA Canada is the leading organization for corporate travel professionals in Canada. It is part of the world's premier business travel and corporate meetings organization, the Global Business Travel Association (GBTA). GBTA's annual convention brings together the travel industry's largest gathering of global minds.  The annual event also serves as a platform for global recognition and appreciation for those volunteers who help shape, guide and support GBTA.