Toronto, May 25, 2016: Canadian companies are stepping up to help Ecuador's citizens cope with the aftermath of the country's recent devastating magnitude-7.8 earthquake and following two aftershocks.
Canada's leading travel management company, Vision Travel, has provided supplies and funds to support Ecuadorian communities at this crucial time. Ruben Dominguez, a Vision Travel Senior Travel Advisor and native of Ecuador, travelled to the country on April 29th to assist with relief and recovery efforts. Ruben has worked with Vision Travel for five and a half years and has lived in Canada for 44 years.
Vision Travel Foundation, the company's registered charitable organization, has matched $1500 in employee donations for the Canadian Red Cross Ecuador Earthquake Appeal. Vision helped support Ruben's efforts and provided additional supplies including clothing, non-perishable food, toilet paper, flashlights, hats and gloves.
Also offering immediate support, CanSafe-SafetyZone, a manufacturer and wholesale distributor of safety products to the Canadian market, has partnered with Vision Travel Foundation to supply $5000 worth of donated goods that included leather construction gloves, respirators and safety masks.
"While I tried getting near the worst hit areas to offer help, it was nearly impossible due to health and safety reasons. All the goods donated by Vision Travel and CanSafe-SafetyZone have been taken to the city of Ibarra's Saint Francis of Assisi Parish whose sister church is about 2 hours and 40 minutes away from the main earthquake zone of Pedernales. They have been feeding roughly 1200 locals daily.  I expect that the people of Ecuador will be in need for quite some time. All support and contributions towards the people of Ecuador are greatly appreciated," comments Ruben.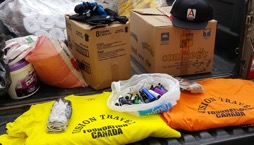 Supplies provided by Vision Travel