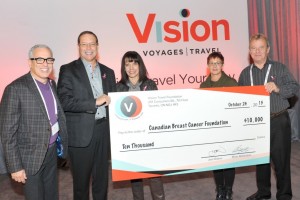 TORONTO – October 26, 2015 – It was a lucky seven for the Vision Travel Group as the company, the largest Canadian-owned travel management company, celebrated its seventh annual Power of Vision conference October 23 to 25 in Ottawa. Themed "Together/Rassembler", the event was attended by over 300 Vision travel advisors and 120 personnel representing 81 suppliers who convened at the Westin Hotel in Ottawa for a weekend of learning, sharing, awards, networking and fun.
"This weekend is the highlight of the year for all of us", said Brian Robertson, COO.  "It's a remarkable event where our team can get to know each other better, get updated on the latest company developments and celebrate our successful partnerships with our preferred suppliers."
Vision attendees from across the country included the management team, corporate and leisure advisors and many of the company's independent travel advisors who now number 350 across Canada.
Celebrating another successful year
Highlights included a keynote speech by Canadian gold-medal Olympian rower Adam Kreek; corporate and active leisure travel trend panels featuring top industry executives; and at the Leisure Rendez-Vous over 4,800 face-to-face meetings between travel advisors and preferred suppliers. Cheers greeted the announcement by Brian Robertson that the company's yearend figures totaled in excess of $650 million.
Working together, doing good
After another incredible year of community support, the Vision Travel Foundation gave back to a very important cause, breast cancer awareness. During a touching presentation, the foundation donated a cheque for $10,000 to the Canadian Breast Cancer Foundation in celebration of Canadian Breast Cancer Awareness month.
A year of industry recognitions
This year, Vision's category leadership and stellar sales performance has been recognized by the industry. For the first time, Vision has been named one of Profit500 Fastest Growing Companies, for posting a five-year growth of 79%, capping what has been a profitable 15 years in operation. Vision also received the Top Growth Guest Sales from WestJet at the 2015 Travel Partner Awards.